Preface
Hello gherkins,
Here in Philadelphia, there are only two holidays: Halloween and getting' ready for Halloween. While the average Philadelphian is thinking about Halloween all year long, serious preparation traditionally begins on August 31st: the day on which Mary Ann Nichols, the first of Jack the ripper's canonical victims, was murdered.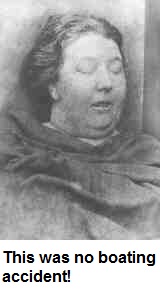 And that's why I've chosen today to launch an experiment called "I Just Wanna Give You The Creeps". This experiment has one clear, yet highly subjective, goal: To find the most frightening thing ever created to for the sole purpose of being aired on television. The only rule is that it had to have been created for the small screen with the intention of spooking the Bejezuz out of any viewers who might encountered it while channel-surfing. If it was created with theatrical release in mind, but ended up on TV instead, it doesn't count. Nor do straight-to-video/DVD releases qualify. "Bud Dwyers" are also ruled out as they are generally unplanned events.
"Hey! That's the guy who signs my welfare checks!" – Dave Blood every time he'd see bud Dwyer on TV.
Now that I had a rule (more like a guideline, really), the next thing I needed was a test subject. I took inspiration from Pierre Curie and enlisted the aid of my wife Vienna. As long as I didn't accidentally rest my naked forearm on a radium salts-covered desk, we should both be fine and greatly enlightened at the conclusion of the experiment.
The final piece would be a system for evaluation the effectiveness of the material we'd be viewing. After much discussing and a precautionary check of the entire house for radium salts, we settled on a two-fold rating system: 1) Was the material frightening? And 2) Was it entertaining? Fright would be measured using a 1 to 10 Barnabas Collins scale while entertainment value would be determined using a similar scale of  1 to 10 Alan Ormsbys. Each of our scores would be shown separately and then averaged for a final result. For example, the 1955 Halloween episode of "I Love Lucy" in which Ricky Ricardo's conga drum solo unleashes a voodoo curse which turns Lucy into a ravenous zombie who devours guest star Tennessee Ernie Ford is certainly entertaining, yet it could hardly be considered frightening by today's standards. Vienna gave it 1 Barnabi and 8 Ormsbys while I gave it 3 Barnabi (that scene where Lucy bites into Fred Mertz's arm still gets me) and 6 Ormsbys. Therefore its final score ended up being 2 Barnabi and 7 Ormsbys.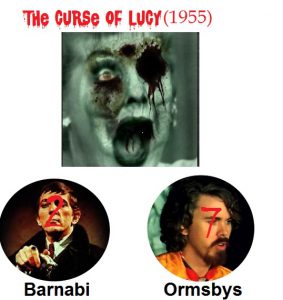 Experiment One: Pigeons from Hell (1961)
Our fist experiment involved an episode of the Boris Karloff- hosted anthology series "Thriller". The production was based on a short story by Robert E. Howard who wrote the Conan the Barbarian books and who also, ironically, pulled a Bud Dwyer sans live TV coverage. Here's the entire episode, if you'd like to partake in the experiment along with us.
So how did Pigeons from Hell hold up under our rigorous standards?  Not very well, unfortunately. Vienna thought that episode was almost completely devoid of scares and that, although it might have made for exciting entertainment fifty-five years  ago – when it originally aired – time had not been kind to Mr. Howard's pigeons.
Vienna gave Pigeons from Hell 2 Barnabi and 2 Ormsbys
I, in turn , agreed with with Vienna that the episode was about as frightening as a installment of "Tiny House Nation", but I derived twice as much entertainment from it. Maybe I'm just a sucker for Southern Gothic, but what I really liked was the way the screenwriter managed to cram so much strangeness and taboo subject manner (by 1961 standards) into fifty minutes of television. Bravo, you twisted radium salts-sniffing bastard!
My score for the show was 2 Barnabi and 4 Ormsbys, giving Pigeons from Hell a final total of…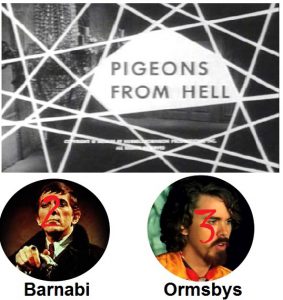 Next time, we'll check in with an episode of Tales of the Unexpected…which you are now totally expecting. And please contact us with any suggestions for TV shows you'd like us to check out.
Save
Save
Save
Save
Save
Save
Save
Save
Save
Save
Save
Save
Save
Save
Save