If you're wondering just what the Hell is going on here, please check out the preface to first installment.
Experiment Two: The Landlady (1979)
Greetings, Gothic Gherkins. Our second  experiment comes to us in the form of an episode of Roald Dahl's Tales of the Unexpected.
Roald Dahl? The guy who wrote Charlie and the Chocolate Factory? The guy who wrote Fantastic Mr. Fox? The guy who wrote James and the Giant Peach? That Roald Dahl? Children's author, Roald Dahl? Surely you shit! How scary could Roald Dahl be?
Well, as it turns out, Roald Dahl's dark side took up most of the real estate in his brain. Old Roald had a penchant for writing dark tales with really twisted surprise endings, in the vein of another famous writer – Saki (AKA H.H. Munro). [If you've never read Saki's "The Open Window", stop what you're doing and READ IT NOW. I'll still be here when you're done.]
I hope you enjoyed that. And i hope you'll enjoy this. When you're done watching it,  see if you agree with our rating…
This was a tough on to rate because I really wanted to like it a lot more than I did. On the positive side, it sets up a nice creepy atmosphere early on and manages to keep it up it throughout the entire episode (and this in an age before Viagra). Unfortunately, you can spot the surprise as it slows down to seven miles an hour  on it's trip through Dallas.  So I suggest that we applaud it for intention if not execution.
Vienna gave it 2 Barnabi and 5 Ormsbys. She agreed with me that, although it was short on fright, it was long on creepy, leering fun. I thought it was a little scarier than Vienna did (the last few minutes…the corpses!) and concurred on the level of fun, giving The Landlady a score  of 3 Barnabi and 5 Ormsbys.  This gave the episode a final total of…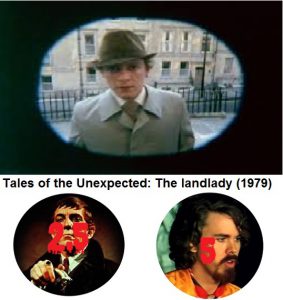 Next time: Pennsyltucky is for Lovers.
Save
Save
Save
Save
Save
Save