My favorite horror move has always been 1963's "The Haunting" (although "Hereditary" is running a close second). To people who were raised on Freddy, Pinhead, or Chucky, The Haunting might seem to be very dull as the film is 100% free of jump scares. But this is why I love it. The makers of The Haunting understood that true horror is created by a tense, unnerving atmosphere. That's why the "Give him the camera" scene in "Ordinary People" is much more frightening than anything in "Friday the 13th". It's something the people behind the people behind the 1999 remake of The Haunting (people totally undeserving of love) never understood. And that's Liam Neeson and I have never spoken (that and the fact we've never met…and if we did, I'd most likely be VERY polite to him as he has a certain set of skill which include being able to beat the shit out me).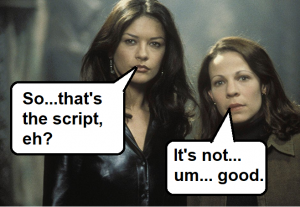 Much like a good horror movie, a song doesn't need to be loaded with monsters and murder to be scary. It just needs the right atmosphere. Which brings us to our fourth entry – Echo and the Bunnymen with "The Killing Moon". Nobody gets decapitated; no ghostly lovers haunt their former paramours, yet this song remains one of the creepiest tunes ever recorded. So much so that, years after its release, "The Killing Moon" would inspiration the creation of Donnie Darko.
"I'd mentioned somewhere that The Killing Moon was about pre-destiny, and he wrote the whole fuckin' film about it. Cheeky bastard! He gave us this pittance one-off fee for the use of the song, saying it was just a little indie film, but forgot to mention that Drew Barrymore was behind it, who had more money than Howard Hughes. Great as it is, he should at least have given us a credit for the idea."
– Ian McCulloch
See you tomorrow.