Quickly; name a band which formed in the late 1960s, included a member named Ozzy Osbourne, were known for their occult imagery, and had a song titled "Black Sabbath"? If you guessed Black Sabbath, you are, of course, correct. If you guessed the Fabulous DeFranco Family, you're tripping balls, my friend. But if you answered with "Coven", you are also correct – Satanically correct!
Coven is one of those bands I wish more people knew about (They'll be playing the Troc on10/25). They're fronted by the amazing Jinx Dawson (who hasn't aged a day since 1968. Seriously. It's like she made some sort of bargain with…never mind). I bet you think the legendary and completely brilliant Ronnie James Dio was the first perform to salute an audience with the "Devil Horns". Nope. It was jinx.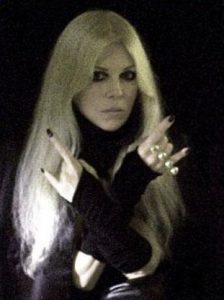 So, it is which much demonic happiness that I present to you, from their 1969 album Witchcraft Destroys Minds & Reaps Souls, Coven performing "Wicked Woman".
See you tomorrow.