There are only three holidays which involve candy and a possible encounter with someone in a bunny costume: Halloween, Easter, and Valentine's Day. Of the three of these, only one stirs up images of flesh-eating, blood-drinking corpses rising from their graves.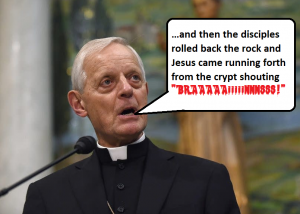 Maybe it's because Vienna & I were married in the middle of the month, but Halloween will always be the real Valentine's Day for me. And it should be for you as well. Just take a minute to think off all the great love stories which revolve around Halloween. There's The Bride of Frankenstein, The Phantom of the Opera. and hundreds of slasher flicks in which camp councilors total get it on before being impaled by a rototiller.
In the recognition of the amorous side of Halloween, I give you today's song – "Corpses (A Zombie Love Song)" by those gleeful purveyors of romantic ballads God Module.
Oh, and here's 40 goddamn minutes of Halloween commercials from the 70's & 80's because that's the way Crazy Eddie would've wanted it.
See you tomorrow.